In the Gers, 17 municipalities display the sign "Ville fleurie" or "Village fleuri", a guarantee of quality of life and respect for the environment. Here is a quick overview from Also, the Gascon capital.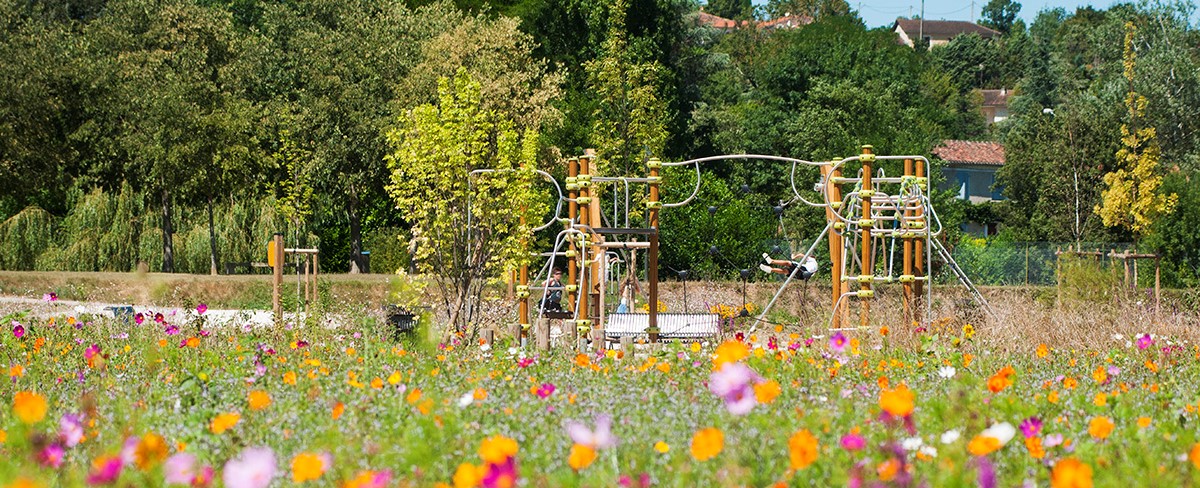 Tell me how many flowers you have ...
Also, town in the countryside, is labeled 4 flowers just like the small village ofOrdan Larroque. 3 flowers gratify Justin, known for its 1900 viaduct and 2 flowers are affixed the panel of Castelnau-Barbarens, charming medieval village.
The city of Auch promotes biodiversity,
with late mowing, the establishment of nesting boxes, ecological maintenance of green spaces, the use of ladybird larvae and insect hotels.
By committing to this labeling, the municipalities energize their territory by developing a landscape and plant heritage.
Sought-after "Flowers"
The "Villes et villages fleuris" label, which is celebrating its 60th anniversary, is a coveted label. In addition to ensuring national, even international recognition for the village, it can be an influencing factor in the choice of tourist destination.
The yellow sign at the entrance to the town guarantees visitors that they arrive in a welcoming place, respectful of nature and concerned about their well-being.

4 931 municipalities hold the label
The Cities and Villages in Bloom label is also sensitive to the preservation of water resources, the discovery of biodiversity and the protection of insects, as well as the embellishment of heritage. An approach that echoes the rurality of the Gers ...
The proof in pictures
Colorful animations
In addition to flower contests, the villages organize annual meetings that have become essential. Note in your agenda the "Rare Plants Day" which takes place in Ordan Larroque, or "Les créneaux fleuris" the flower market of Montaut-les-Créneaux.
Take a tour of the towns and villages in bloom of the Gers
Also
4 flowers 32000 Auch
Ordan Larroque
4 flowers 32350 Ordan-Larroque
Lectoure
4 flowers 32700 Lectoure
Blazed
4 flowers 32100 Blaziert
Justin
3 flowers 32810 Castin
Roques
3 flowers 32310 Roques
Condom
2 flowers 32100 Condom
Fleurance
2 flowers 32500 Fleurance
Castelnau-Barbarens
2 flowers 32450 Castelnau-Barbarens
Montreal of the Gers
1 flower 32250 Montreal du Gers
Marciac
3 flowers 32230 Marciac
Eauze
2 flower 32800 Eauze
Castera-Lectourois
2 flower 32700 Castéra-Lectourois
Fources
2 flower 32250 Fourcès
L'Isle-Jourdain
1 flower 32600 L'Isle-Jourdain
Lasseran
1 flower 32200 Lasseran
Samatan
1 flower 32130 Samatan
Also
4 flowers 32000 Auch
Ordan Larroque
4 flowers 32350 Ordan-Larroque
Lectoure
4 flowers 32700 Lectoure
Blazed
4 flowers 32100 Blaziert
Justin
3 flowers 32810 Castin
Roques
3 flowers 32310 Roques
Condom
2 flowers 32100 Condom
Fleurance
2 flowers 32500 Fleurance
Castelnau-Barbarens
2 flowers 32450 Castelnau-Barbarens
Montreal of the Gers
1 flower 32250 Montreal du Gers
Marciac
3 flowers 32230 Marciac
Eauze
2 flower 32800 Eauze
Castera-Lectourois
2 flower 32700 Castéra-Lectourois
Fources
2 flower 32250 Fourcès
L'Isle-Jourdain
1 flower 32600 L'Isle-Jourdain
Lasseran
1 flower 32200 Lasseran
Samatan
1 flower 32130 Samatan
Also
4 flowers 32000 Auch
Ordan Larroque
4 flowers 32350 Ordan-Larroque
Lectoure
4 flowers 32700 Lectoure
Blazed
4 flowers 32100 Blaziert
Justin
3 flowers 32810 Castin
Roques
3 flowers 32310 Roques
Condom
2 flowers 32100 Condom
Fleurance
2 flowers 32500 Fleurance
Castelnau-Barbarens
2 flowers 32450 Castelnau-Barbarens
Montreal of the Gers
1 flower 32250 Montreal du Gers
Marciac
3 flowers 32230 Marciac
Eauze
2 flower 32800 Eauze
Castera-Lectourois
2 flower 32700 Castéra-Lectourois
Fources
2 flower 32250 Fourcès
L'Isle-Jourdain
1 flower 32600 L'Isle-Jourdain
Lasseran
1 flower 32200 Lasseran
Samatan
1 flower 32130 Samatan
Also
4 flowers 32000 Auch
Ordan Larroque
4 flowers 32350 Ordan-Larroque
Lectoure
4 flowers 32700 Lectoure
Blazed
4 flowers 32100 Blaziert
Justin
3 flowers 32810 Castin
Roques
3 flowers 32310 Roques
Condom
2 flowers 32100 Condom
Fleurance
2 flowers 32500 Fleurance
Castelnau-Barbarens
2 flowers 32450 Castelnau-Barbarens
Montreal of the Gers
1 flower 32250 Montreal du Gers
Marciac
3 flowers 32230 Marciac
Eauze
2 flower 32800 Eauze
Castera-Lectourois
2 flower 32700 Castéra-Lectourois
Fources
2 flower 32250 Fourcès
L'Isle-Jourdain
1 flower 32600 L'Isle-Jourdain
Lasseran
1 flower 32200 Lasseran
Samatan
1 flower 32130 Samatan
Also
4 flowers 32000 Auch
Ordan Larroque
4 flowers 32350 Ordan-Larroque
Lectoure
4 flowers 32700 Lectoure
Blazed
4 flowers 32100 Blaziert
Justin
3 flowers 32810 Castin
Roques
3 flowers 32310 Roques
Condom
2 flowers 32100 Condom
Fleurance
2 flowers 32500 Fleurance
Castelnau-Barbarens
2 flowers 32450 Castelnau-Barbarens
Montreal of the Gers
1 flower 32250 Montreal du Gers
Marciac
3 flowers 32230 Marciac
Eauze
2 flower 32800 Eauze
Castera-Lectourois
2 flower 32700 Castéra-Lectourois
Fources
2 flower 32250 Fourcès
L'Isle-Jourdain
1 flower 32600 L'Isle-Jourdain
Lasseran
1 flower 32200 Lasseran
Samatan
1 flower 32130 Samatan
Also
4 flowers 32000 Auch
Ordan Larroque
4 flowers 32350 Ordan-Larroque
Lectoure
4 flowers 32700 Lectoure
Blazed
4 flowers 32100 Blaziert
Justin
3 flowers 32810 Castin
Roques
3 flowers 32310 Roques
Condom
2 flowers 32100 Condom
Fleurance
2 flowers 32500 Fleurance
Castelnau-Barbarens
2 flowers 32450 Castelnau-Barbarens
Montreal of the Gers
1 flower 32250 Montreal du Gers
Marciac
3 flowers 32230 Marciac
Eauze
2 flower 32800 Eauze
Castera-Lectourois
2 flower 32700 Castéra-Lectourois
Fources
2 flower 32250 Fourcès
L'Isle-Jourdain
1 flower 32600 L'Isle-Jourdain
Lasseran
1 flower 32200 Lasseran
Samatan
1 flower 32130 Samatan
Also
4 flowers 32000 Auch
Ordan Larroque
4 flowers 32350 Ordan-Larroque
Lectoure
4 flowers 32700 Lectoure
Blazed
4 flowers 32100 Blaziert
Justin
3 flowers 32810 Castin
Roques
3 flowers 32310 Roques
Condom
2 flowers 32100 Condom
Fleurance
2 flowers 32500 Fleurance
Castelnau-Barbarens
2 flowers 32450 Castelnau-Barbarens
Montreal of the Gers
1 flower 32250 Montreal du Gers
Marciac
3 flowers 32230 Marciac
Eauze
2 flower 32800 Eauze
Castera-Lectourois
2 flower 32700 Castéra-Lectourois
Fources
2 flower 32250 Fourcès
L'Isle-Jourdain
1 flower 32600 L'Isle-Jourdain
Lasseran
1 flower 32200 Lasseran
Samatan
1 flower 32130 Samatan
Also
4 flowers 32000 Auch
Ordan Larroque
4 flowers 32350 Ordan-Larroque
Lectoure
4 flowers 32700 Lectoure
Blazed
4 flowers 32100 Blaziert
Justin
3 flowers 32810 Castin
Roques
3 flowers 32310 Roques
Condom
2 flowers 32100 Condom
Fleurance
2 flowers 32500 Fleurance
Castelnau-Barbarens
2 flowers 32450 Castelnau-Barbarens
Montreal of the Gers
1 flower 32250 Montreal du Gers
Marciac
3 flowers 32230 Marciac
Eauze
2 flower 32800 Eauze
Castera-Lectourois
2 flower 32700 Castéra-Lectourois
Fources
2 flower 32250 Fourcès
L'Isle-Jourdain
1 flower 32600 L'Isle-Jourdain
Lasseran
1 flower 32200 Lasseran
Samatan
1 flower 32130 Samatan
Also
4 flowers 32000 Auch
Ordan Larroque
4 flowers 32350 Ordan-Larroque
Lectoure
4 flowers 32700 Lectoure
Blazed
4 flowers 32100 Blaziert
Justin
3 flowers 32810 Castin
Roques
3 flowers 32310 Roques
Condom
2 flowers 32100 Condom
Fleurance
2 flowers 32500 Fleurance
Castelnau-Barbarens
2 flowers 32450 Castelnau-Barbarens
Montreal of the Gers
1 flower 32250 Montreal du Gers
Marciac
3 flowers 32230 Marciac
Eauze
2 flower 32800 Eauze
Castera-Lectourois
2 flower 32700 Castéra-Lectourois
Fources
2 flower 32250 Fourcès
L'Isle-Jourdain
1 flower 32600 L'Isle-Jourdain
Lasseran
1 flower 32200 Lasseran
Samatan
1 flower 32130 Samatan
Also
4 flowers 32000 Auch
Ordan Larroque
4 flowers 32350 Ordan-Larroque
Lectoure
4 flowers 32700 Lectoure
Blazed
4 flowers 32100 Blaziert
Justin
3 flowers 32810 Castin
Roques
3 flowers 32310 Roques
Condom
2 flowers 32100 Condom
Fleurance
2 flowers 32500 Fleurance
Castelnau-Barbarens
2 flowers 32450 Castelnau-Barbarens
Montreal of the Gers
1 flower 32250 Montreal du Gers
Marciac
3 flowers 32230 Marciac
Eauze
2 flower 32800 Eauze
Castera-Lectourois
2 flower 32700 Castéra-Lectourois
Fources
2 flower 32250 Fourcès
L'Isle-Jourdain
1 flower 32600 L'Isle-Jourdain
Lasseran
1 flower 32200 Lasseran
Samatan
1 flower 32130 Samatan
Also
4 flowers 32000 Auch
Ordan Larroque
4 flowers 32350 Ordan-Larroque
Lectoure
4 flowers 32700 Lectoure
Blazed
4 flowers 32100 Blaziert
Justin
3 flowers 32810 Castin
Roques
3 flowers 32310 Roques
Condom
2 flowers 32100 Condom
Fleurance
2 flowers 32500 Fleurance
Castelnau-Barbarens
2 flowers 32450 Castelnau-Barbarens
Montreal of the Gers
1 flower 32250 Montreal du Gers
Marciac
3 flowers 32230 Marciac
Eauze
2 flower 32800 Eauze
Castera-Lectourois
2 flower 32700 Castéra-Lectourois
Fources
2 flower 32250 Fourcès
L'Isle-Jourdain
1 flower 32600 L'Isle-Jourdain
Lasseran
1 flower 32200 Lasseran
Samatan
1 flower 32130 Samatan
Also
4 flowers 32000 Auch
Ordan Larroque
4 flowers 32350 Ordan-Larroque
Lectoure
4 flowers 32700 Lectoure
Blazed
4 flowers 32100 Blaziert
Justin
3 flowers 32810 Castin
Roques
3 flowers 32310 Roques
Condom
2 flowers 32100 Condom
Fleurance
2 flowers 32500 Fleurance
Castelnau-Barbarens
2 flowers 32450 Castelnau-Barbarens
Montreal of the Gers
1 flower 32250 Montreal du Gers
Marciac
3 flowers 32230 Marciac
Eauze
2 flower 32800 Eauze
Castera-Lectourois
2 flower 32700 Castéra-Lectourois
Fources
2 flower 32250 Fourcès
L'Isle-Jourdain
1 flower 32600 L'Isle-Jourdain
Lasseran
1 flower 32200 Lasseran
Samatan
1 flower 32130 Samatan
Also
4 flowers 32000 Auch
Ordan Larroque
4 flowers 32350 Ordan-Larroque
Lectoure
4 flowers 32700 Lectoure
Blazed
4 flowers 32100 Blaziert
Justin
3 flowers 32810 Castin
Roques
3 flowers 32310 Roques
Condom
2 flowers 32100 Condom
Fleurance
2 flowers 32500 Fleurance
Castelnau-Barbarens
2 flowers 32450 Castelnau-Barbarens
Montreal of the Gers
1 flower 32250 Montreal du Gers
Marciac
3 flowers 32230 Marciac
Eauze
2 flower 32800 Eauze
Castera-Lectourois
2 flower 32700 Castéra-Lectourois
Fources
2 flower 32250 Fourcès
L'Isle-Jourdain
1 flower 32600 L'Isle-Jourdain
Lasseran
1 flower 32200 Lasseran
Samatan
1 flower 32130 Samatan
Also
4 flowers 32000 Auch
Ordan Larroque
4 flowers 32350 Ordan-Larroque
Lectoure
4 flowers 32700 Lectoure
Blazed
4 flowers 32100 Blaziert
Justin
3 flowers 32810 Castin
Roques
3 flowers 32310 Roques
Condom
2 flowers 32100 Condom
Fleurance
2 flowers 32500 Fleurance
Castelnau-Barbarens
2 flowers 32450 Castelnau-Barbarens
Montreal of the Gers
1 flower 32250 Montreal du Gers
Marciac
3 flowers 32230 Marciac
Eauze
2 flower 32800 Eauze
Castera-Lectourois
2 flower 32700 Castéra-Lectourois
Fources
2 flower 32250 Fourcès
L'Isle-Jourdain
1 flower 32600 L'Isle-Jourdain
Lasseran
1 flower 32200 Lasseran
Samatan
1 flower 32130 Samatan
Also
4 flowers 32000 Auch
Ordan Larroque
4 flowers 32350 Ordan-Larroque
Lectoure
4 flowers 32700 Lectoure
Blazed
4 flowers 32100 Blaziert
Justin
3 flowers 32810 Castin
Roques
3 flowers 32310 Roques
Condom
2 flowers 32100 Condom
Fleurance
2 flowers 32500 Fleurance
Castelnau-Barbarens
2 flowers 32450 Castelnau-Barbarens
Montreal of the Gers
1 flower 32250 Montreal du Gers
Marciac
3 flowers 32230 Marciac
Eauze
2 flower 32800 Eauze
Castera-Lectourois
2 flower 32700 Castéra-Lectourois
Fources
2 flower 32250 Fourcès
L'Isle-Jourdain
1 flower 32600 L'Isle-Jourdain
Lasseran
1 flower 32200 Lasseran
Samatan
1 flower 32130 Samatan
Also
4 flowers 32000 Auch
Ordan Larroque
4 flowers 32350 Ordan-Larroque
Lectoure
4 flowers 32700 Lectoure
Blazed
4 flowers 32100 Blaziert
Justin
3 flowers 32810 Castin
Roques
3 flowers 32310 Roques
Condom
2 flowers 32100 Condom
Fleurance
2 flowers 32500 Fleurance
Castelnau-Barbarens
2 flowers 32450 Castelnau-Barbarens
Montreal of the Gers
1 flower 32250 Montreal du Gers
Marciac
3 flowers 32230 Marciac
Eauze
2 flower 32800 Eauze
Castera-Lectourois
2 flower 32700 Castéra-Lectourois
Fources
2 flower 32250 Fourcès
L'Isle-Jourdain
1 flower 32600 L'Isle-Jourdain
Lasseran
1 flower 32200 Lasseran
Samatan
1 flower 32130 Samatan
Also
4 flowers 32000 Auch
Ordan Larroque
4 flowers 32350 Ordan-Larroque
Lectoure
4 flowers 32700 Lectoure
Blazed
4 flowers 32100 Blaziert
Justin
3 flowers 32810 Castin
Roques
3 flowers 32310 Roques
Condom
2 flowers 32100 Condom
Fleurance
2 flowers 32500 Fleurance
Castelnau-Barbarens
2 flowers 32450 Castelnau-Barbarens
Montreal of the Gers
1 flower 32250 Montreal du Gers
Marciac
3 flowers 32230 Marciac
Eauze
2 flower 32800 Eauze
Castera-Lectourois
2 flower 32700 Castéra-Lectourois
Fources
2 flower 32250 Fourcès
L'Isle-Jourdain
1 flower 32600 L'Isle-Jourdain
Lasseran
1 flower 32200 Lasseran
Samatan
1 flower 32130 Samatan
To learn more