Are you looking for an idea for an outing, a stay, "turnkey" or à la carte? We are listening to you !
Associations, coach operators, clubs, works councils, groups of friends… the sales department is at your disposal to design and organize your project as you wish.
We work with a network of partners from partner, which we select for their professionalism.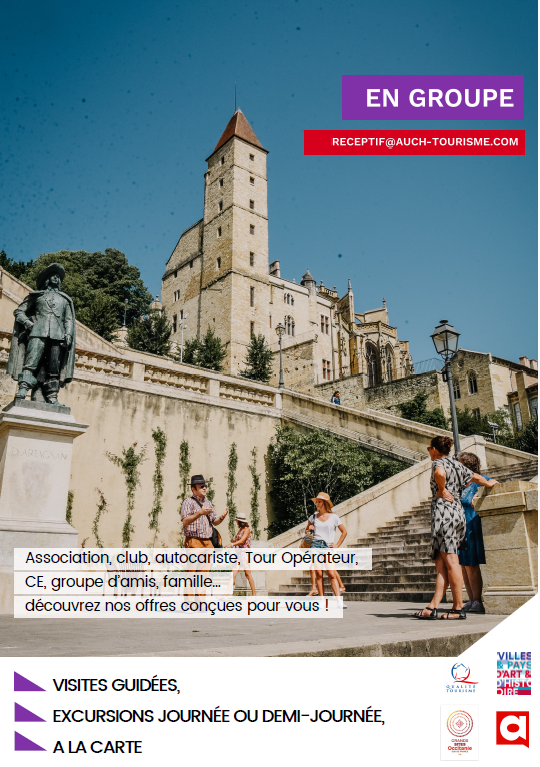 From the design of your program to the final invoicing, we are your one and only point of contact. With a perfect knowledge of the territory and our enlightened advice, do not hesitate to contact us.
May and Melody
Small Group Team Building Ideas
RUGBY IMMERSION
– Meet former players who tell you the history of the Auch club with passion; tour the current RCA facilities. After a tour through the locker room, it's time to practice! Introduction to leisure rugby (without tackle) and well-deserved 3rd half with a local producer.
– 10 to 25 participants maximum,
– Wednesday or Thursday morning – from 9:30 a.m. to 12:30 p.m.,
– Price: 300 €.
For more info, contact us.
THE CLUED'AUCH
– 1 game master
– 20 participants maximum, divided into 4 teams
– 2 hours of historical survey-rally across the city center of Auch
– Price: €125
The perfect activity for a team building seminar!
For more info, contact us.
Your request, your desires
The tourist office is a registered incoming travel agency in the register of travel organizations under number IMO32130001. As such, the financial guarantee is provided by APST and travel agent liability insurance by Aviva.
Tourist bus: where to park?
In Auch, since October 2020 signs to better indicate the parking arrangements for tourist buses have been in place:
15 minutes along the town hall (and information panel for bus drivers),
a series of panels " P Fairway Bus »Guide the drivers to the reserved places.
Soon, a drop-off along Boulevard Sadi Carnot will be signposted, to allow easy access to the Museum of the Americas - Auch, with long-term parking indicated in the Mouzon car park.
Heritage discovery for young people
The territory of Greater Auch (* agglomeration before the merger in 2017 with the former community of communes Cœur de Gascogne) belongs to the national network of Towns and Countries of Art and History since 2011.
As part of this label awarded by the Minister of Culture, it undertakes, in a requirement of quality and concern for the public, to protect its built and landscaped heritage and to share it in an original and lively way.
Throughout the year, the architectural and heritage animation service, with the help of professional guide-lecturers, invites the public to discover heritage from all angles:
guided tours,
workshops,
conferences,
exhibitions
shows…
Offer for young audiences
You are responsible for the educational and / or leisure time of
Toddlers
Round 1
Round 2
Round 3
College students
High school students, students
Extracurricular, extracurricular
Our services are adapted! To plan your outing together, consult our catalog of services:
Then complete the pre-booking form which will allow us to establish the first contact with the Land of Art and History of Grand Auch.
* The Land of Art and History of Grand Auch includes 15 municipalities located in the heart of the Gers department: Auch, Augnax, Auterive, Castelnau-Barbarens, Castin, Crastes, Duran, Lahitte, Leboulin, Montaut-les-Créneaux, Montégut, Nougaroulet, Pavie, Pessan and Preignan. A project to extend the scope of the label to the 34 municipalities of the Grand Auch Coeur de Gascogne agglomeration community is underway. It should make it possible from 2022 to develop new themes, in particular for young audiences.
You will also be interested in