The Gers, ah the Gers!
If some immediately refer to "Happiness is in the meadow" when you pronounce "Gers", it is because this film has contributed to the notoriety of our department in the South-West of France (Occitanie Region)... One day that time will be over!
The Gers: either it speaks to you, or it does not speak to you J One thing is certain the Gers that is characterized, it is lived, it is shared!
You will find touches of it here and there, by escaping on the pages of this website of our destination Auch, heart of Gascony in the heart of the Gers!
Here, let us tell you the basics "touristically speaking", with the pleasure of letting you know that a vacation here would bode well if you like the following ...
Landscapes and nature of the Gers
Hills, valleys, hillsides and valleys with modest relief alternate permanently with altitudes (80 and 300 meters) and height differences.
From a dominant point, you will have in front of you an aerial and open landscape, luminous, an undulating relief… open on the Pyrenees sometimes.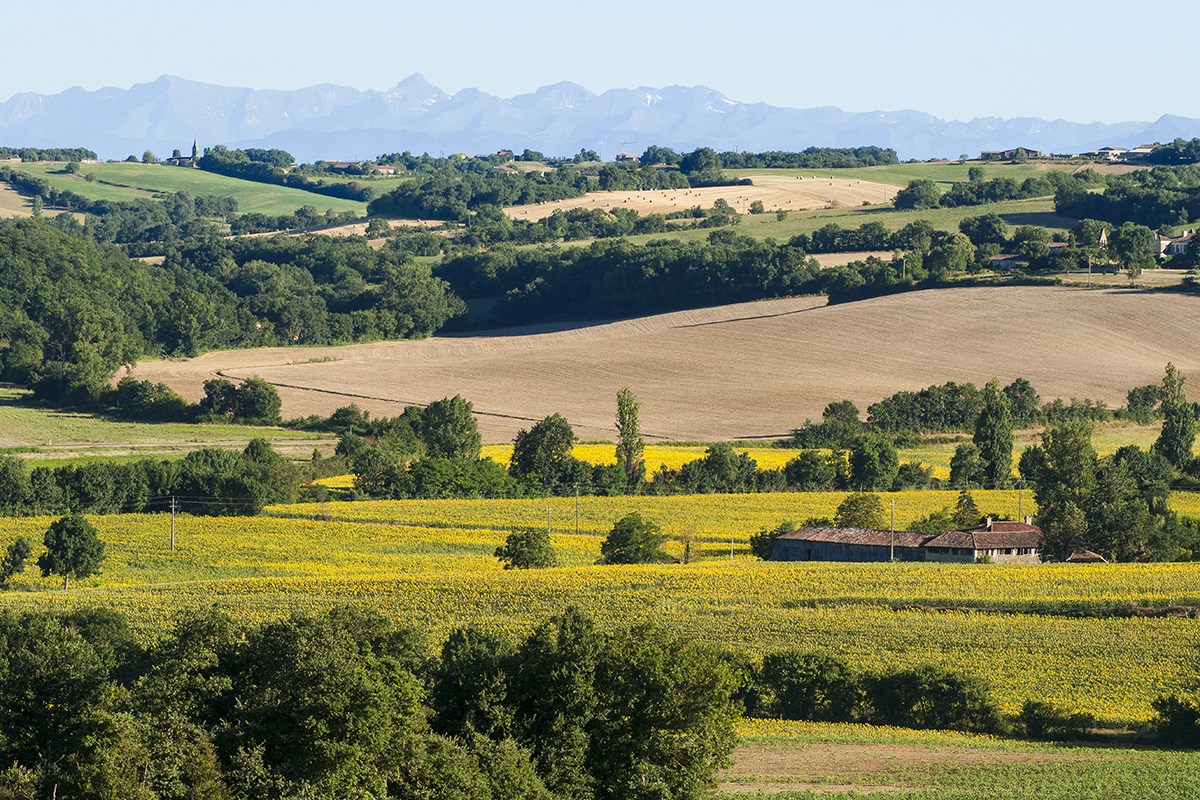 A little lower down, the partitioning and the horizon compartment are reminiscent of a life-size puzzle: like successive pieces with a repetitiveness of shapes, regularities, and modeling.
70% of the land is still used for agriculture, the countryside is fragmented: a veritable mosaic of places, a patchwork of fields and agrosystems.
Vignes
The vineyard occupies the land, very present in the east of the Gers ...
The Gers is sparsely populated and sparsely populated. Little urbanized, diffuse housing, little industry, many villages, a majority ofold farms inhabited in brick, stone elsewhere, or half-timbered are characteristic.
Gascon castles appear in the landscape beyond, hilltop villages, Gallo-Roman piles, dovecotes, Romanesque churches, a steeple ...
In short, the richness of shapes and details is infinite and amazes us!
Laurence, during a guided tour of the Sansan Paleosite (south of Auch) helps to understand the Gascon fan : it constitutes the base of the Gers landscapes.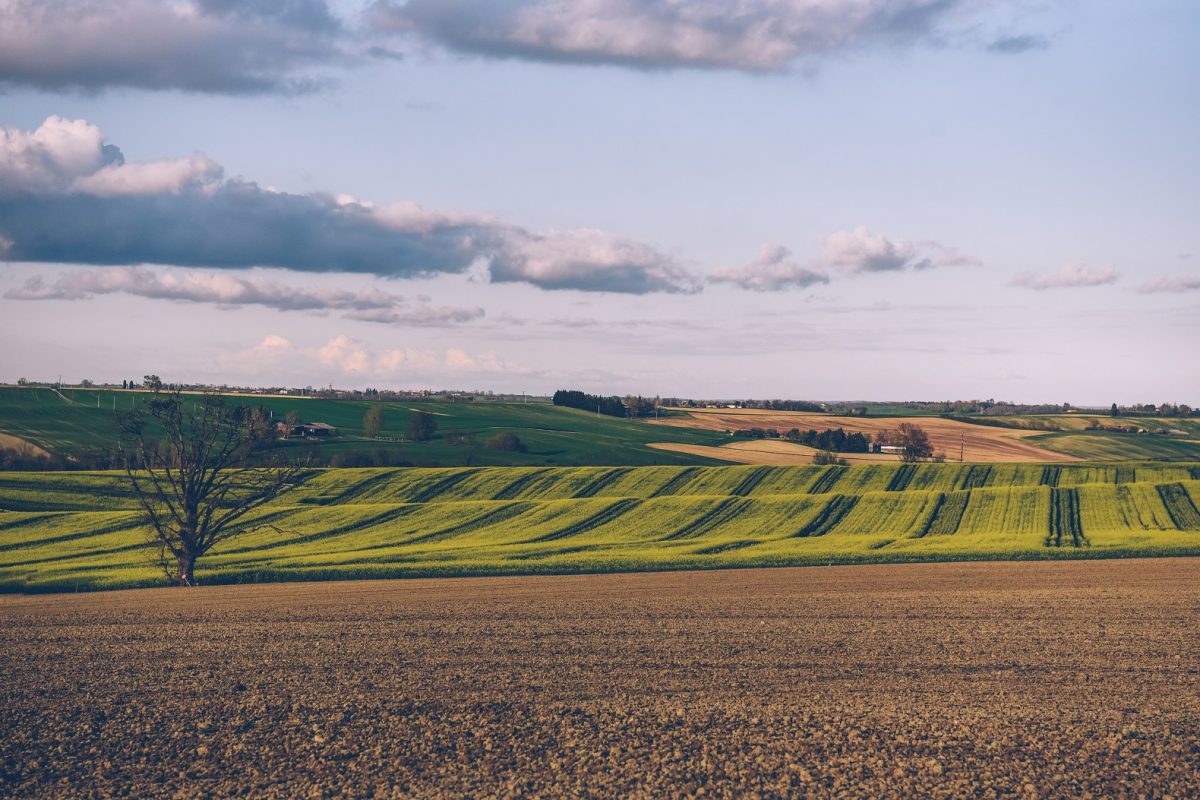 Holiday land
Our marked hiking trails numerous throughout the Gers (walking tours in our area) therefore promise you varied decors while being able to take time to enjoy.
If you are nature lovers and you like the few previous pictures, your trips by car will inevitably invite you to contemplative stops!
An nature that lends itself to a whole lot of outdoor activities fun, quiet or dynamic; River Baise allows some water activities (and if bucolic); from swimming lakes equipment adapted to your leisure time links the entire Department; fishing lakes too.
The main cities and sites
Key sites and cities on the paths of Saint-Jacques Compostelle:
Lectoure (pages 41 to 48 of the magazine)
La romieu (pages 37 and 38 of the magazine)
Marciac
Iconic visit sites:
And DHundreds of small villages, castelnaux, bastides, hamlets with discreet charm ... Our expert stay advisers from the Tourist Offices will suggest some to you, your families and friends, and your hosts as well.
Such beautiful and peaceful parks and gardens:
The terroir, gastronomy, delicacies, epicureanism
We have already told you a lot about the Gers gastronomy...
And what about our delicious wine trio which accompanies Gascon meals from aperitif to dessert:
Gascogne floccu
Côtes de Gascogne wine
Armagnac
And flagship products of the plate which make the international reputation of the Gers:
IGP ducks from Gers and its derived products: foie gras and other fresh or dried and candied duck breasts
Farm poultry from the Gers
Lectoure melons
Black Gascon or Bigorre pork
Without forgetting the very local specialties, with the small tastes of "come back to it", which one only tastes when coming here:
Tourtière or Gascon pastis, sweet side
Figs, salty side ...
The meal is sacred as in many regions, aperitifs are more and more, whether you are resident or on vacation, around a glass of white wine Côtes de Gascogne, soft, semi-dry ... Our favorite heart goes to Flocs de Gascogne if you don't know… Plain or in cocktails!
The village festivals and the barnums of our major festivals are increasingly "local and short circuit friendly" to the delight of young and old alike!
Will you taste the products made here and the traditional or inventive cuisine offered by our restaurateurs?
The big festivals, the sense of celebration
The sense of celebration is firmly rooted in the southwest of France and it is not our neighbors in the Landes, Béarn and the Basque Country who will say the opposite. Here in addition to férias, major events make the fame of the Gers and attract audiences of initiates, either faithful or curious. You will know at least one:
Easter races in Nogaro
Welcome In Tziganie
International Festival "Bandas in Condom"
Pentecostal
Latin Tempo
Jazz In Marciac Festival
Cuivrofoliz
Lectoure Astronomy Festival
Independence and Creations Festival in Auch
The current Auch Circus Festival (known under the small name of CIRCa)
From spring until autumn they animate passions, they fill the diaries, they reason in all our Gers!
Fairs and festivals of more regional or local renown are also meeting places for initiates, enthusiasts and curious people: the flower markets of Fources, Montaut-les-Créneaux, Pirouette circaouette in Auch, the farm markets of Gers, Les Esti'val in Val de Gers, Nuits musicales en Armagnac, Gasconnades de Lectoure, Street art magnac festival in Eauze, Estivales de l'Illustration, La Fête du Floc in Eauze, Gascogn'Agri in Auch, Gasconhatable in Samatan , Don't Amass Moss in Castéra-Verduzan Rare Plants Day in Ordan-Larroque…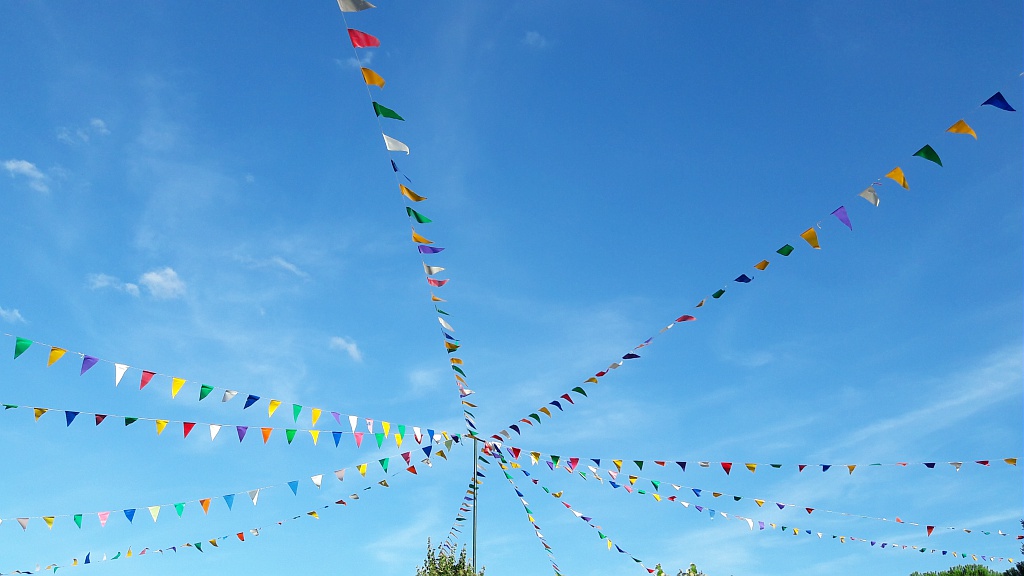 And all the village festivals are of unparalleled authenticity, a very special atmosphere and even more during mealtimes!
The Gers and the Gers are also:
Go further
At a maximum of 2 hours' drive, other Great Sites of Occitanie will catch your eye ...: Marciac, Moissac, Toulouse ...