. art. craftsman. flea market. caning. Castéra-Verduzan. cabinetmaking. Gers. patrimony . tapestry
A corner of the past, the flea market passionately
In Castéra-Verduzan, there is a place with unsuspected treasures: the flea market A Corner of the Past . Do you like to stroll, find antiques?
Follow us in this real cabinet of curiosities, where Didier Gefflaut, the master of the place, awaits us.
An authentic place
The flea market is set up in a warm house with a So British atmosphere, even if the host is 100% from Gers!
Our second-hand dealer who officiates since 1989, welcomes us and lets us soak up the serene atmosphere of the place where a few notes of classical music add a touch of sweetness.
We see a row of rooms abounding rare and precious objects, knick-knacks, silverware, furniture, linen, lights. Here we are in a real Ali Baba cave!
Pretty pieces
The glare of abundance dissipated, we discover incredible nuggets. Tableware occupies a real place among the favorite objects, in particular English earthenware, silverware, crystal services, housewives.
Didier knows how to talk about the identity or the reference of an article. We feel the passion that drives him when he goes in search of the history of an object, its usefulness and its value.
To present his treasures, he creates atmospheres and melts the objects into a setting. Here, one can easily imagine the preparation of the dressing of a festive table, there a reader settling comfortably at his desk-secretary.
Nuggets and chinoiseries
A A Corner of the Past, we strongly feel the charm of yesteryear, its elegance and delicacy. There is also exoticism and we understand the questions that these beautiful pieces can raise to our insatiable curious.
But in fact, how do you become a junk dealer?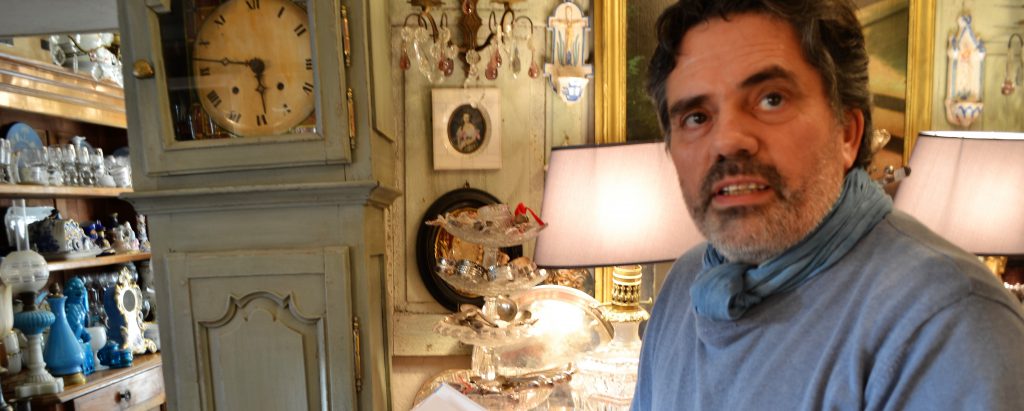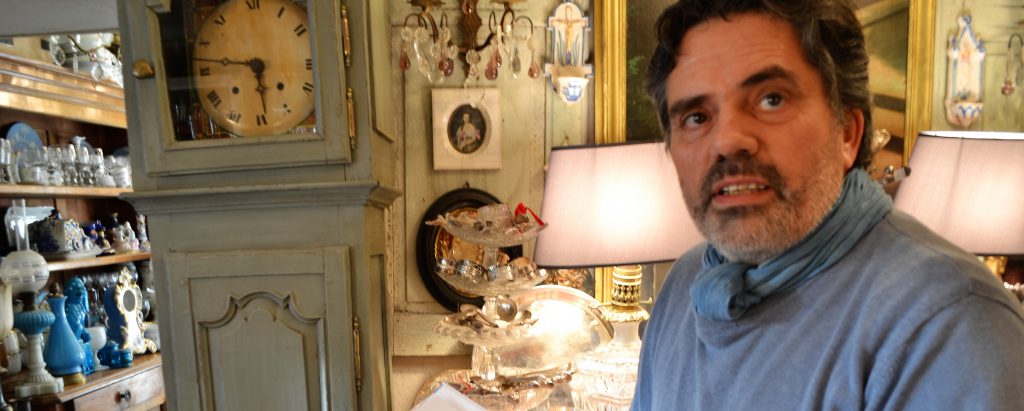 A childhood dream, passion often finds its roots in childhood ...
For Didier Gerfflaut, this is where his love for the old object comes from. He remembers this old trunk to which, little boy that he was, he wanted to bring back to life ...
With his hotel training, our future second-hand dealer went into exile for a few years on the other side of the Channel. As soon as he returned home, he approached an antique dealer who reassured him in the choice he wanted to give to his life, taught him the basics of the trade and sold him his business. He joins the rank of passionate craftsmen!
Didier documents himself, learns the characteristics of styles, studies the different species of trees. He is fascinated by the story that an object, a piece of furniture can tell. And discovered a real love for wood.
The craftsman
We approach a magnificent chest of drawers and there, our host becomes inexhaustible. The essence of the wood, the grain, the caesura, we can feel in his words the happiness of the hours spent restoring this piece of furniture.
He shares his taste for traditional know-how and takes us on a journey through the history of furniture. Thus we learn that the wardrobe of our Gascon grandmothers was made in the Pyrenees and bore the fine name of "dab" because of their removable structure and the small size which made it easily transportable in a cart (our kit furniture has an ancestor …).
A pleasant smell of wax brushes our nostrils, we pass the workshop and we discover the work of the craftsman.
Painting on wood
The rebirth of an old piece of furniture can go through a "makeover". In this area, Didier Gefflaut shows great dexterity with water-based paint… This faux-marble worktop is breathtaking!
The renovation
In his workshop, our second-hand dealer also carries out cabinetmaking, tapestry and cane work. Mondays and Tuesdays, Didier devotes himself exclusively to his renovation work. Do you have a restoration project? Think of A Corner of the Past !
At the entrance to Castéra-Verduzan coming fromAuch, you will recognize the facade of this village house whose openings are framed by Virginia creeper and wisteria.
PRACTICAL INFORMATION
Address 13 avenue Claude Bordenave 32410 Castera-Verduzan
Tel: +33 (0)5 62 68 10 73
Email Address didier.gefflaut@orange.fr
Opening Wednesday to Sunday from 10 a.m. to 18 p.m.
. art. craftsman. flea market. caning. Castera-Verduzan