Near the departmental road 929 which connects Likewise in Lannemezan a few places stand out where history has left its mark, where heritage has been able to withstand the passage of time.
At the heart of the Astarac and Magnoac territories located in the south of our department, these five places come together to form the Route of Murals, from Belloc-Saint-Clamens in the west to Simorre in the east and Monléon-Magnoac in the south, on the border between the Gers and the Hautes-Pyrénées.
Between the fourteenth and sixteenth centuries, religious buildings were not considered complete until the decor recalling the martyrdom of the patron saint of their parish had been painted. These decorations are also the testimony of the daily life of the inhabitants of the time.
In the Astarac region ...
Between Mirande and Saint-Michel are located Belloc-Saint-Clamens and its Romanesque chapel. It houses two crucifixions painted in the XNUMXth century. The first is framed by Saint Clément and recalls the nearby Berdoues abbey with a monk wearing the white habit of the Cistercians. The second is located on the south wall of the nave.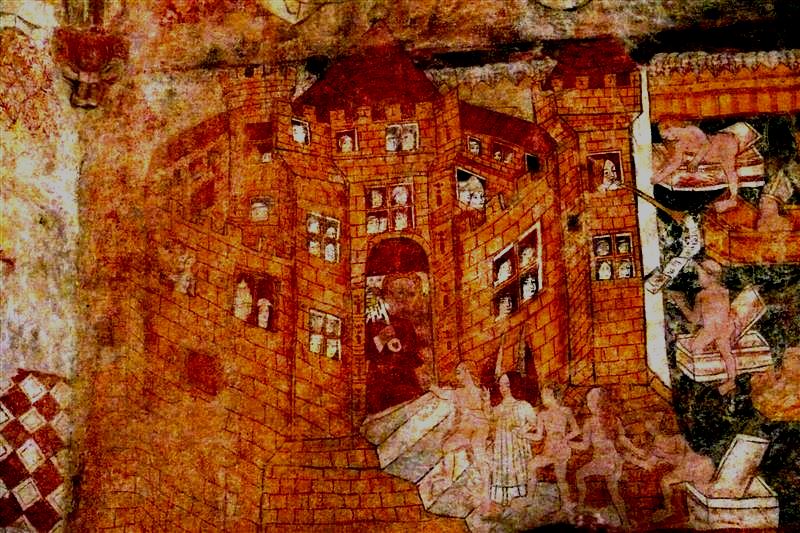 On the D129, east of Seissan, stand the Abbey of Simorre, which looks like a fortified castle and its Notre-Dame abbey built between 1298 and 1309. Its decor was painted in the XNUMXth century and the walls are decorated with paintings or panels similar to tapestries. To the east two angels swing a censer and frame the crucifixion of Saint Michael, patron saint of Astarac; three bishops including Saint-Sernin appear on the opposite wall.
More to the south…
East of Chélan, theSaint-Laurent church de Mont d'Astarac, which dates from the end of the 1490th century, consists of a wide nave with an imposing bell tower and a pentagonal choir with three chapels, the whole of which is covered with murals dating from the XNUMXs. wall decor displays the Tree of Jesse, family tree linking Jesse, father of David to Jesus; at the bottom of a wall, Hell is depicted in a detailed and striking manner.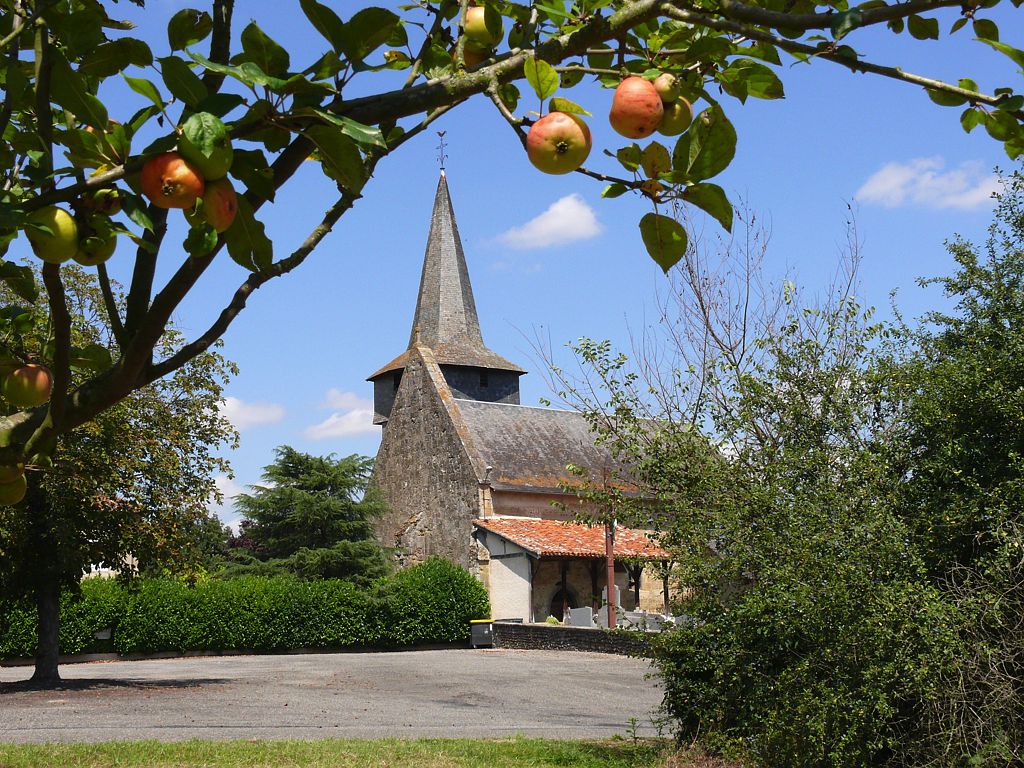 South of Mont d'Astarac, the village of Sariac-Magnoac houses the Church of the Assumption which dates from the beginning of the 1869th century (with the exception of the bell tower built in XNUMX). Entirely vaulted with ribs, the choir of the church has preserved a painted decoration as well as four medallions representing the attributes of the Evangelists, the whole of which was repainted in the XNUMXth century. Paintings have recently been unearthed and restored on the walls.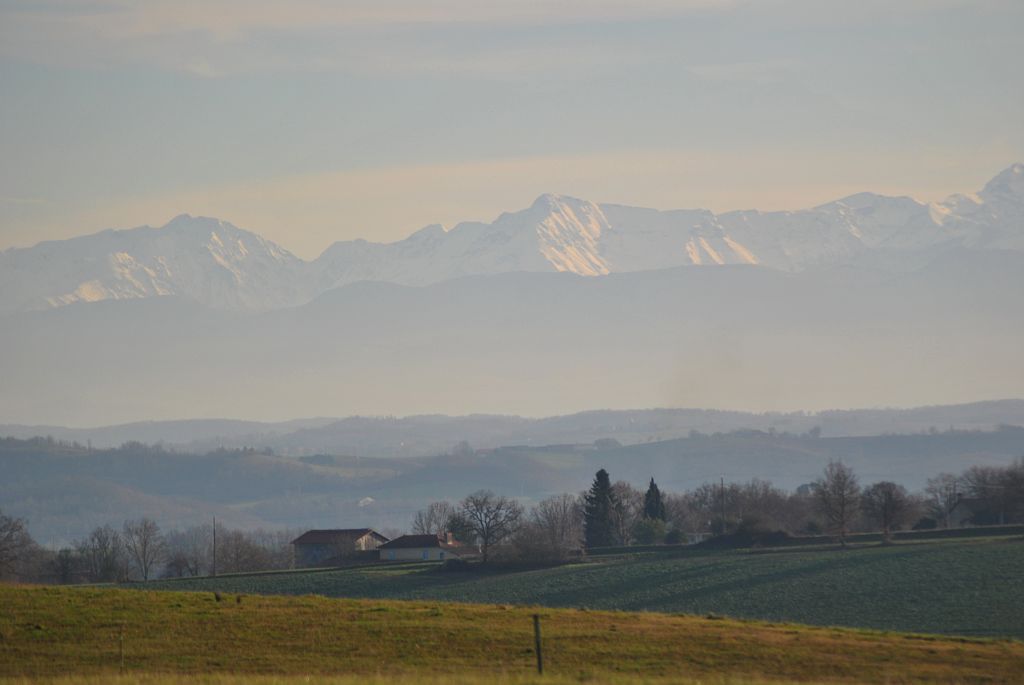 These few places which make up the heritage of the south of our department will certainly seduce you with the memories and the tranquility that they keep within their walls.
How to visit them?
Visits are most often by appointment. You will find the contact details in this presentation brochure carried out by the Masseube-Val de Gers tourist office.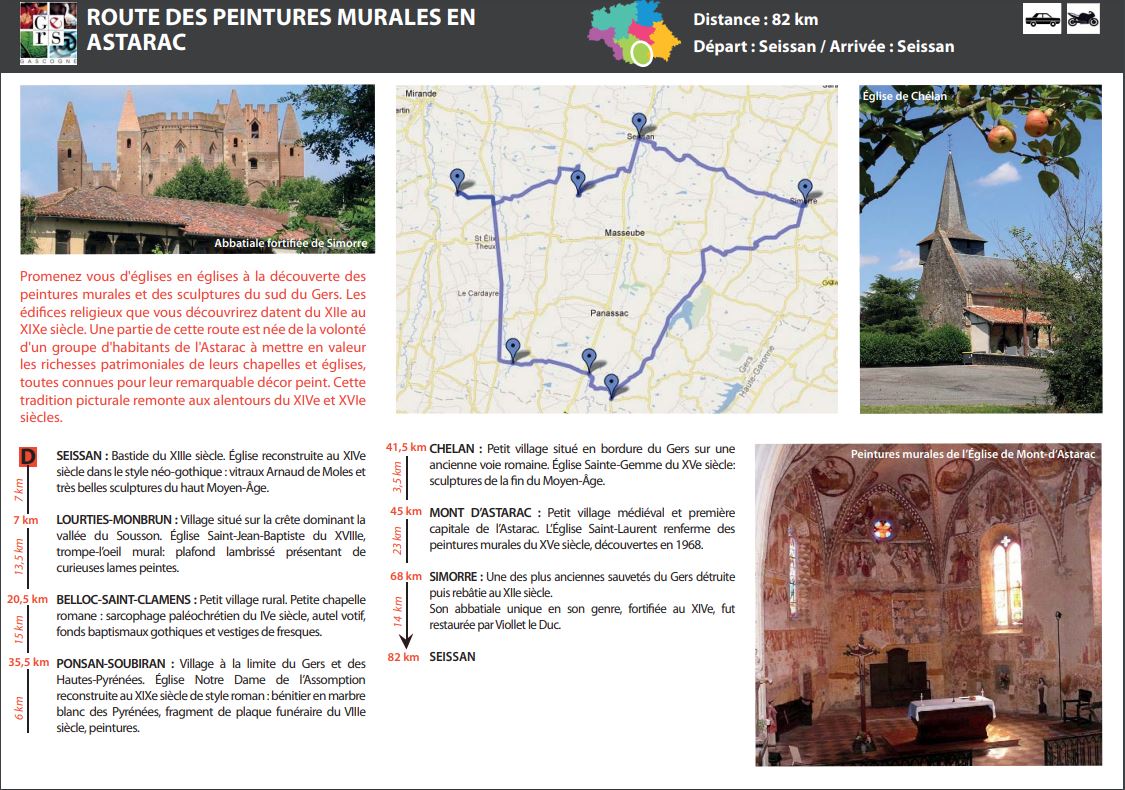 . art. Astarac. discovery. Gers. story