The GR®653, route from Arles to Compostela
With nearly 900 kilometers to its credit, the GR653 between Arles and Somport remains one of the major roads leading to Santiago de Compostela. This so-called southern route offers invaluable attractions, both in terms of heritage and geography. It connects the Mediterranean and Atlantic slopes, with L'Isle-Jourdain as the gateway to the Gers and the first departmental stopover after Toulouse.
The course
Features
Length: 140 km.
No major difficulty. Please note that there is little accommodation between Auch and Marciac.
Details of the Gers route
L'Isle-Jourdain has not lost his Gascon accent!
The old Town has retained the charm of a medieval city. We will note the XNUMXth century tower, flanked by a collegiate church with classical architecture, the mansion "Claude Augé", born in this city, and founding father of the Petit Larousse Illustré, and of course, the European Museum of Campanar Art which brings together over a period of four millennia an exceptional collection of more than a thousand bells, bells, bells, chimes. A monumental watchmaking from the five continents.
Auch, Grand Site d'Occitanie
Overlooking the Pyrenees, the circuit will take you to Likewise, capital of Gascony labeled Grands Sites Occitanie et Pays d'art et d'histoire. Your eyes will be delighted with the Sainte-Marie cathedral (XV-XVIIth centuries), major site on the ways of Saint-Jacques de Compostelle classified as world heritage of Humanity by UNESCO in the Flamboyant Gothic and Renaissance style with inside, of multiple treasures to discover.
Completed in 1863, themonumental staircase connects the historic town to the new town over a 35 m drop. Overlooked by the statue of the famous musketeer d'Artagnan, performed by Firmin Michelet in 1931, climb its 234 steps (374 in total with double flights) before indulging yourself in a stroll through the heart of old Auch by surveying the pousterles, steeply sloping medieval streets.
Marciac, capital of Jazz
This beautiful road, between bastides and castelnaux, will reveal many treasures to you, before the last stopover in Gers in the heart of Marciac.
Its central square surrounded by arcaded houses housed a market, destroyed in 1871. The village can be recognized from afar thanks to its two bell towers: that of the Church of Notre-Dame de L'Assomption (XNUMXth century) and that of the old one. Augustinian convent (XNUMXth century). Outside the village, the Notre-Dame de la Croix chapel (XNUMXth century) borders the Chemin de Saint-Jacques.
Your path will end in the Hautes-Pyrénées at the village of Maubourguet.
And about the paths of St-Jacques
Pick up as much information as possible to prepare your trip and project yourself into your future drop-off points and walking days on www.chemins-compostelle.com
And here A presentation of the ways of St-Jacques, under their double identity: a history and a heritage, landscapes, and in their practical form: a contemporary itinerancy, individual stories with multiple motivations.
You might also be interested in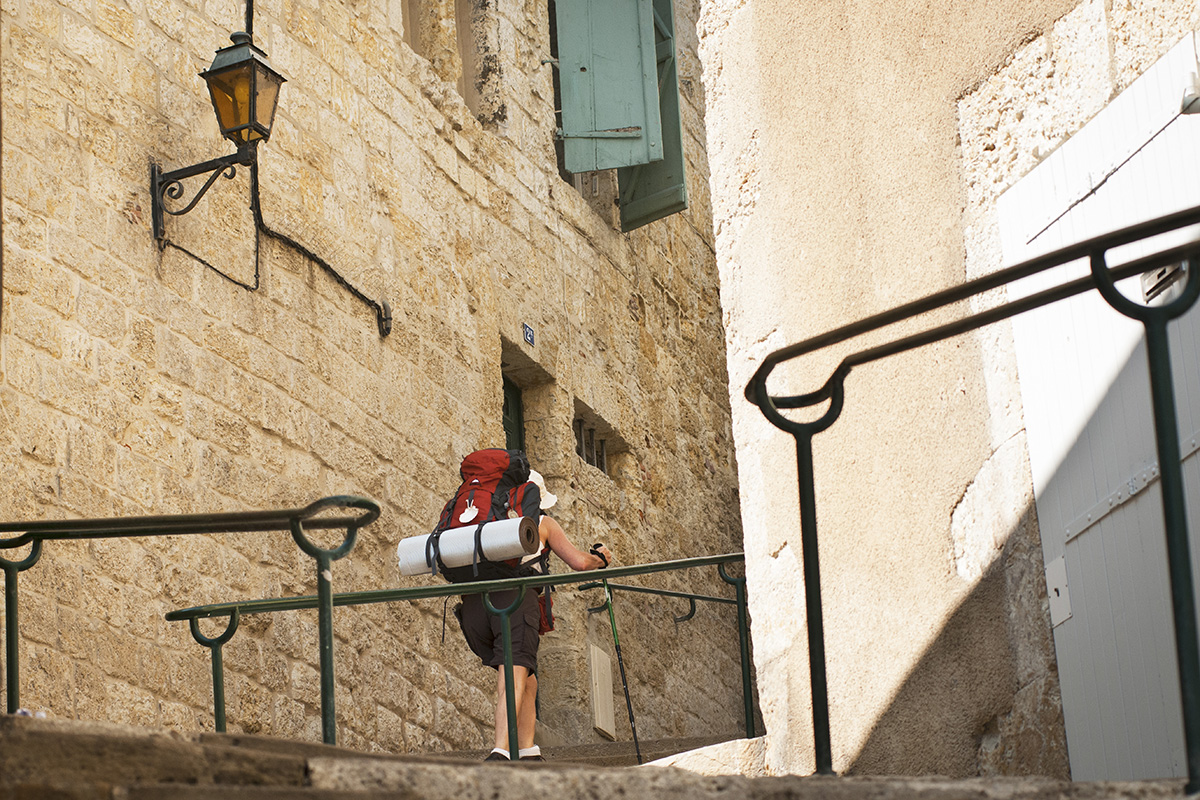 On the way to St-Jacques de Compostelle, Auch and Montégut in the Gers from Toulouse