As we discussed in this article onFlaran Abbey, this Gallic way located 40 km fromAuch, was reinforced by the Romans.
It took for foundations the outline of a prehistoric path, between the Adour and Garonne basins, to make a route that crisscrossed Gascony from north to south. Its route made it possible not to take either fords that were difficult to cross, or bridges that were once synonymous with tolls.
Etymology: The road of Caesar!
The name of Ténarèze is also spelled "Ténarèse". This name is derived from latin "Itinerem cesarem" which is translated "Route of Caesar". However, it is very likely that she never saw Caesar in person. However, he mentions it in "La Guerre des Gaules" in a passage devoted to the conquest of Aquitaine.
Prehistoric origins
Its prehistoric origin, which few people suspect, is based on the discovery of remains and sites that border this path.
The Ténarèze follows the sinuosities of the watershed crest on the heights, between the basin of the Garonne to the east, where the Osse and the Baïse flow in particular, and that of the Adour to the west, where the Bouès flows. It remains away from the large Gascon agglomerations of yesteryear but makes a stopover in many Gers villages.
Its precise route is still discussed today by locals and historians, but two routes stand out.
Two uncertain routes
The first connects Miélan, 4th century bastide with medieval architecture and half-timbered houses housing no less than XNUMX churches, in the south of the department, Lupiac south of the territory of Armagnac. This village is famous for being the d'Artagnan's birthplace. This is where a museum was dedicated to him in the Notre-Dame-de-Pitié chapel. It goes in particular through Drinking et Peyrusse Grande then heads towards Bordeaux via Eauze. This is where the majestic Saint-Luperc cathedral, the first flamboyant Gothic-style building in Gascony, then by Gabarret and Losse.
The Ténarèze today
Armagnac Ténarèze is today one of the three terroirs ofarmagnac with Haut and Bas-Armagnac. Condom is its capital!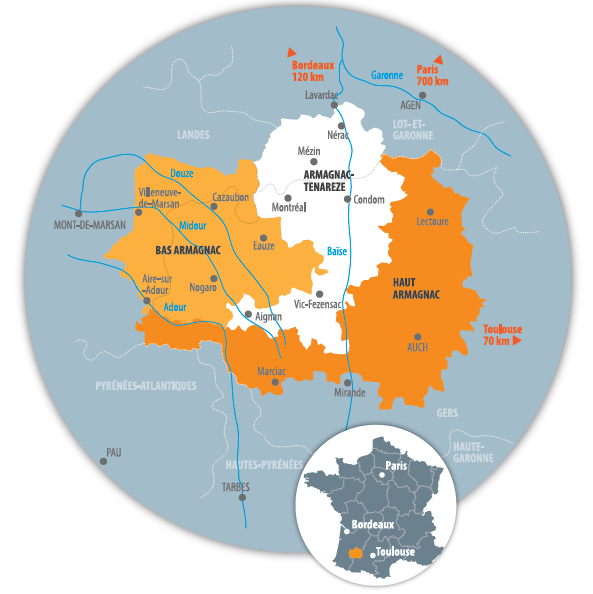 . armagnac. discoveries. Flaran. Gers. Mielan