Since 2020, the Gers department has marked out several equestrian routes from Lupiac, the starting point for several European Equestrian Routes d'Artagnan. In the department, the networking of several of these roads makes it possible to make a tour of the Gers on horseback. It is of course also possible to take a tour of the Gers by electric bike. That's what Adam and Bee did.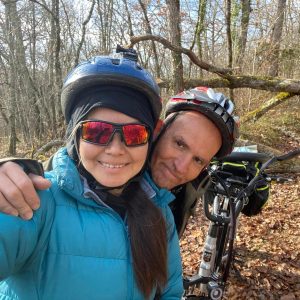 Bee and Adam
It was with their VAE (offered for hire) that they set off to tour the Gers – i.e. 280 km – in 5 days between November 4 and 8, 2021. This adventure allowed them to test this unusual experience that they want to offer to their customers.
Adam and Bee's Great Journey
First stage: from Lupiac to Barran
Second stage: from Barran to Fleurance
Third stage: from Fleurance to Laplume
Fourth stage: from Laplume to Justian
Fifth stage: from Justian to Lupiac
Their opinion interests us
Adam and Bee's experiment is very conclusive! The route is well marked and achievable by electric bike (mountain bike or hybrid bike equipped for cycle tourism). Some passages are quite physical, especially in rainy weather, when the paths become muddy and slippery. It is undoubtedly in 8 stages that this tour of the Gers by VAE will be the most pleasant to do. The landscapes and nature are there, as are the villages of character.
Adam and Bee are the owners of the Farmer of Gignan in Lupiac. They offer accommodation conducive to disconnection and a service of e-bike rental. You can find their bikes at the Château de Viella or at thetourist Office in Castéra-Verduzan when the good weather returns.
. Artagnan. Gers cycling circuit. tour of the Gers. VAE. bike