It surprises with its rich and prestigious collection of pre-Columbian art (the second in France after that of the Musée du quai Branly - Jacques Chirac), but not only… Do not miss the visit of the Museum of the Americas – Auch !
It's not always easy to bring children to the museum, not always easy to keep them occupied once there ... In fact, everything depends on the elements made available to capture their attention: the appropriate speech, the panels dedicated to their ages, the museography thought for them, the paper or digital tools created, the tones used… The types and tools of mediation are numerous in cultural sites and museums.
The team Museum of the Americas – Auch compete for ideas to suit (and please) children!
Visit and discover through play
For a classic visit at any time of the year, whether young people come with dad, mom, papi, granny, uncle, auntie, a game booklet is always available. What more !?
An attractive price? That's all thought of since entry is free under 18 years old,
the age-appropriate game book? Here too, the museum has thought of everything ...
And yes, during the period of major works on the museum from 2018 to 2019, the museum team surrounded itself with a communication agency that worked with the illustrator AKI to adapt the game booklets intended to accompany the children. in the discovery of the collections, according to their age.
Thus, 6 levels were available on the museum's game booklets: that of 4 years, That of 4 to 6 year-olds, That of 7 to 9 year-olds, That of 10 to 12 year-olds, That of teens-adults (great, we like to play) and even, a adapted game booklet !
The adapted game booklet was designed for people with disabilities (cognitive, mental for example). It is written in larger type, simple sentences, and focuses on certain faces in the museum.
Children (and parents) lend themselves well to the game!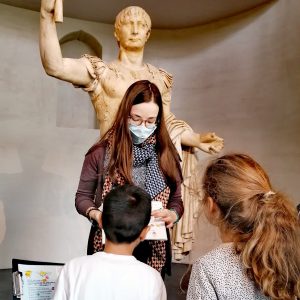 A goal of the visit
It is a useful and fun support for the visit: it allows them to do a concrete activity and gives a purpose to the visit (finish the notebook, or solve the survey for the teenager-adult), Emilie tells us….
And a host of activities and workshops
All year round, a varied program of activities and workshops for young audiences will brighten up life within the beautiful walls of the prestigious museum.
. birthday at the museum. family more. Auch Museum. Museum with children. museum of france