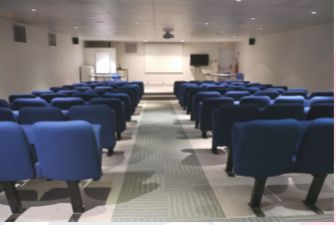 Installed in the premises of the CCI - Chamber of Commerce and Industry "of Gers, the Communication Center offers various rooms of different capacities, equipped with computer equipment.

- Jean Laborde room:
This 122m² conference room, amphitheater type, has 94 very comfortable fixed seats, a tribune, full sound system, its own audio-video control room, satellite and terrestrial reception, a 2m by 1m40 screen for a bright video projector. and after signing the CCI charter on the use of Internet access, you will have a high-speed connection as well as all the cabling to connect your computer equipment or a rental pc. You can be assisted by a qualified technician for all technical aspects related to this room.


- André Daguin room:
This superb multipurpose room can hold at least 200 people, its multiple facilities, its modular 280 m² surface area and its brightness make it the ideal place for large-scale events. You will find a videoconferencing system as well as a video projector calibrated for a large screen. 3mx2m. If necessary, it is possible to use the additional 50 m2 hall. The room opens onto a patio of 100 m2 with garden.


- Video conference studio:
With a maximum capacity of 10 people, this videoconferencing studio brings together all the technologies that will allow you to communicate both at European and international level. After signing the CCI charter on the use of Internet access, you will be able to benefit from WIFI in order to connect to the Internet. You will also be provided with all the classic connections adapted to your personal or rental computer equipment. A document camera remains at your disposal and if you wish a technician will be called upon to assist you in the technical procedures such as a connection to room 1 or 2 or the start of the videoconference.

- Room 8:
Room with a capacity of 15 m2 for 8 people maximum, with projection screen and Wifi Internet access.


- Room 3:
Room with a capacity of 50 m2 for a maximum of 20 people, equipped with a screen and video projector on the ceiling, Wifi Internet access.


- Living room :
Room with a capacity of 37,45 m2 for 40 people maximum, if necessary possibility of using the hall of 50 m2 in addition. Space equipped with a screen and Wifi Internet access, opening onto a 100 m2 patio and garden.

This service is offered to any business, professional, association, union, public body, etc. as part of a reservation made within a minimum of 8 days before the event.
Services
Services
Information
Vestiaire Collective
Caterer