The Flaran Abbey in Valence sur Baïse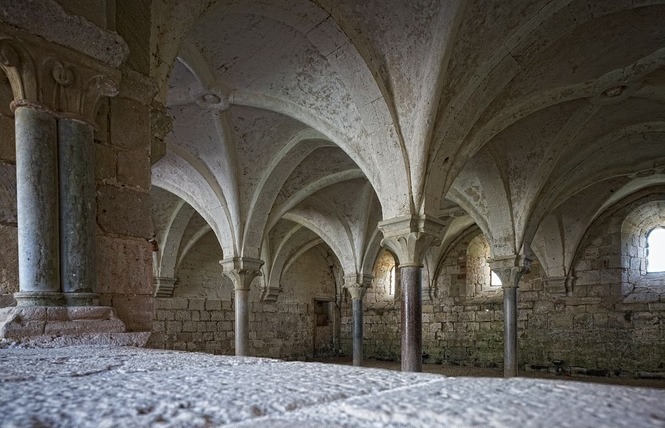 Located 30 minutes north ofLikewise, this emblematic site of the Gers (an integral part of the Grand Site Occitanie Armagnac, Abbey and Cities) houses the departmental conservation of heritage and museums.
Flaran Abbey is also an important place of exhibitions : the paths of Saint-Jacques de Compostelle in the Gers, the history of the abbey, the exceptional collection of masterpieces from the XNUMXth to the XNUMXst Simonow collection. The cultural space also offers a rich and diverse program of events all year round.
Today, we come back to this little treasure, of noble and austere beauty, a rare witness to the first Cistercian architecture in the southwest.
A Cistercian abbey
It is said to be "Daughter of Escaladieu" (Hautes Pyrénées) because it was founded by this other abbey in 1151. It is built on a sort of islet on the course of the river. Baise, in these places which always had the favor of the Cistercians, that is to say where water flows in abundance to supply mills and workshops. The monastic buildings were reworked until the XNUMXth century and have gone through many torments to reach us: the Hundred Years War, the fire by Montgommery's troops in 1569 during the Wars of Religion, then the restoration from 1573 by his commendatory abbots, and finally the sale as national property during the Revolution.
In 1913, the Archaeological Society of Gers succeeded in preventing its cloister never ends at the Cloisters Museum in New York, and on the night of October 15 to 16, 1970, an arson largely devastated it. Finally, the site was bought by the department of Gers in 1972, which then hired a intense restoration campaign.
Today, we admire the Cistercian ensemble made up of the church of roman style (with extraordinary acoustics), the cloister with sculpted capitals, the chapter house with ribbed crossings, the monks' dormitory, not to mention the Madeleine garden and farm.
To get there ? nothing could be simpler, follow it Ténarèze (or Ténarèse) pre-Roman road also called "road of Caesar". This route made it possible to cross the Gascogne from north to south avoiding bridges and fords (but also towns and tolls). Caesar probably did not go through it himself, but this is another story ...
More information
Flaran Abbey
32310 VALENCE-SUR-BAISE
Reception of the public, reservations and information of the visits:
05 31 00 45 75 - Contact the abbey by email
www.abbayedeflaran.fr
More information on the website of the Condom-Ténarèze tourist office.
. Abbey. Armagnac Abbey and Cities. discovery. Flarran. Gers