What if you were offered to fly, as if you were a bird, without top level sports training, what would you say? When Daniel BARBAZA, the president of the gliding club (this is the name given to the practice of gliding), spoke to me about it, I did not hesitate! In a few minutes the appointment was made at Auch Vélivole Center à airport, at the exit of Auch on the road to Agen. You follow me ?
A magnificent sport accessible to all
I had been warned that there was a competition the day I came, so I was there before the time, curious as I am. Or maybe just to put me in the mood, or to reassure me ...
It's true, when I see them in the sky, with my feet firmly on the ground, it seems fluid, quiet, but from there to telling myself that I will be in their place in a few minutes, other feelings animate me .
A lady seems to be patient, I ask her if she is flying (yes), a man is busy near a glider on the airside, young people come and go under the hangar where I was told to wait. The competitors are around, I listen and start asking them some questions ...
Today they are all under 20 years old, they come from clubs in the Occitanie Region.
In fact, the gliding is a sport that can be practiced from 13 years old (the size of the child is important, because of the size of the reserve parachute), then it is only at 14 years old that the teenager can be "let go" alone, under the supervision of an instructor. At 16, after the acquisition of pilot's license (a theoretical test and a flight of about 1 hour), teens can fly independently ! Isn't life good?
There are competitions all year round. The goal of an event is to validate a circuit, a bit like an orienteering race in the air. The circuit leads the competitor from point (GPS) to point, and he has 3 options to validate his circuit, let's develop a little:
each point is formalized on the pilots' roadmap by a point and a circle that surrounds it (map in photo below)
the pilot can validate his circuit by entering the circle or on its edge (the score awarded varies according to his geolocation recorded at the time he validates)
he must complete the circuit within the minimum time indicated (if he goes too fast, he is penalized)
at the end of the flight, a classification accumulates a whole bunch of indicators on board a kind of digital chip given by the participants on arrival. It's hard to know who will win, before the digital application has flourished ...
Over the course of our discussions, other people are added to our small intergenerational group : they are volunteers present to help organize the competition, they will fly for fun at the end of the day. It is super friendly, everyone answers my questions wholeheartedly : we feel that the passion is shared! In short: an individual sport that is practiced in a group ?
Really, I had a good time there.
Material and conditions
To practice the glider, no need for a high level sports training, most people do it for leisure, once their aeronautical medical examination has been validated. They tell us that they prefer a rather light meal and hydrate well before the flight (for the Gascon meal, will it be OK afterwards?).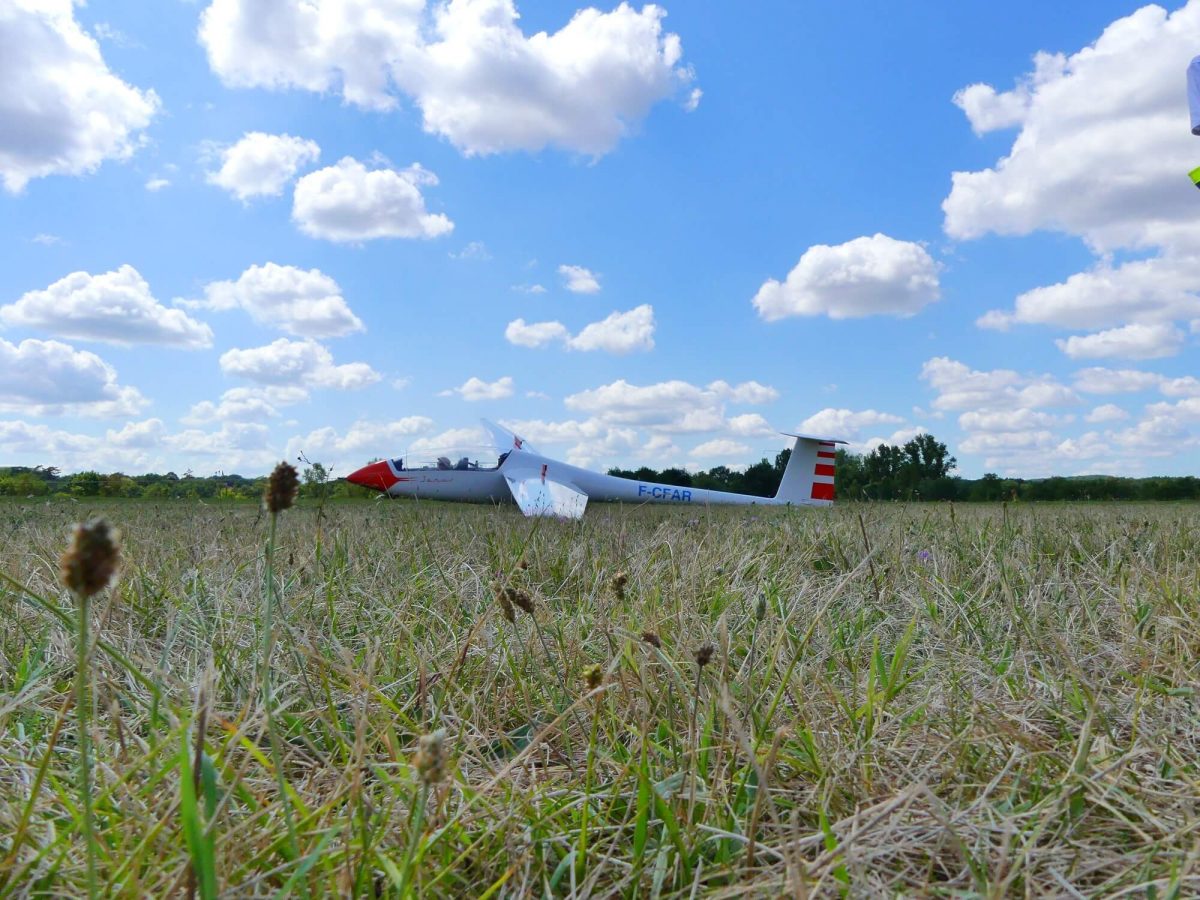 There are several sizes of gliders: in width they measure a maximum of 26 meters.
A single-seater weighs 250 kilos, a two-seater 450. Here at the Auch club we fly on average at an altitude of 1 meters with sometimes exceptional climbs to 500 meters. In comparison, in the neighboring Pyrenees, flights rise to an altitude of 2 meters.
To be able to fly, updrafts are necessary: ​​gliders are equipped with instruments to measure several indicators: altitude, speed and rate of climb. In terms of human resources, the club has a "Chief pilot instructor", it is compulsory on competition days: it is he who gives the starts, for example.
Ready, fire, fly!
This is it my turn is approaching. I did not take my cap, they lend me a hat… It is Daniel, the president, who embarks me in the "golf cart" to join my two-seater on the runway. Guillaume is waiting for us and welcomes me. He will be my pilot, in short my best friend for the next few minutes. He begins by catching a parachute which he puts on him to make a very educational demo of its port and its use, if ever there is need. Then he equips me with mine, always reassuringly.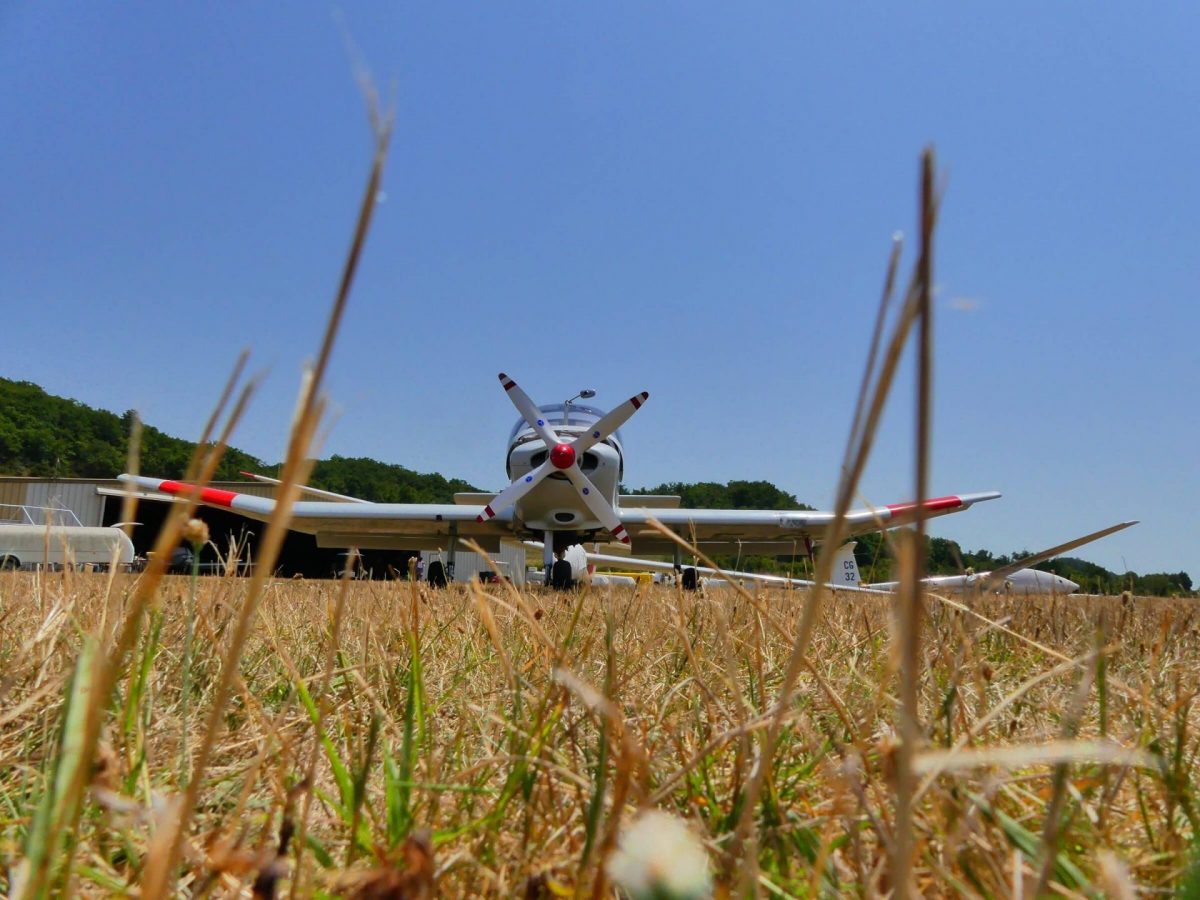 If I'm not feeling well, I have to warn him: it's not a problem, I do my baptism and the goal is that the moment remains a pleasure and a good memory. He shows me the windows of the glider, its interior where I belong (in the first row it will be me! I will have nothing to do, except open the window if by case I feel bad). Daniel takes over to give me the technique to get on board and settle me comfortably in my seat. Here I am, here we are! Guillaume gives me some info on the controllers that will activate around me, so that I won't be surprised.
A youngster from the club has been following us since the start, on that day he was dedicated to hooking up the cable of the tow plane to the glider. "Switch on": "OK", "lock": "OK"; my pilot closes the machine, we take off !!!!
Watching the others take off, I had the impression that it was hitting the ground at the start, when the plane still on the ground pulled us; not at all ultimately. Very quickly it slips, it slips. Guillaume explains to me all the dials I see in front of me, and everything he does, or is going to do. The time to gain altitude, he keeps the glider static. After a few moments, the ride in the air really begins.
What a foot to see my city from the sky, I want to locate the Cathedral,Monumental staircase, the Dôme de Gascogne… The river and the stadiums are my landmarks.
Hop, I recognize the Montégut castle too ! After a while, what I see from up there is no longer in relief, my pilot explains to me that it is normal around 900 meters above sea level.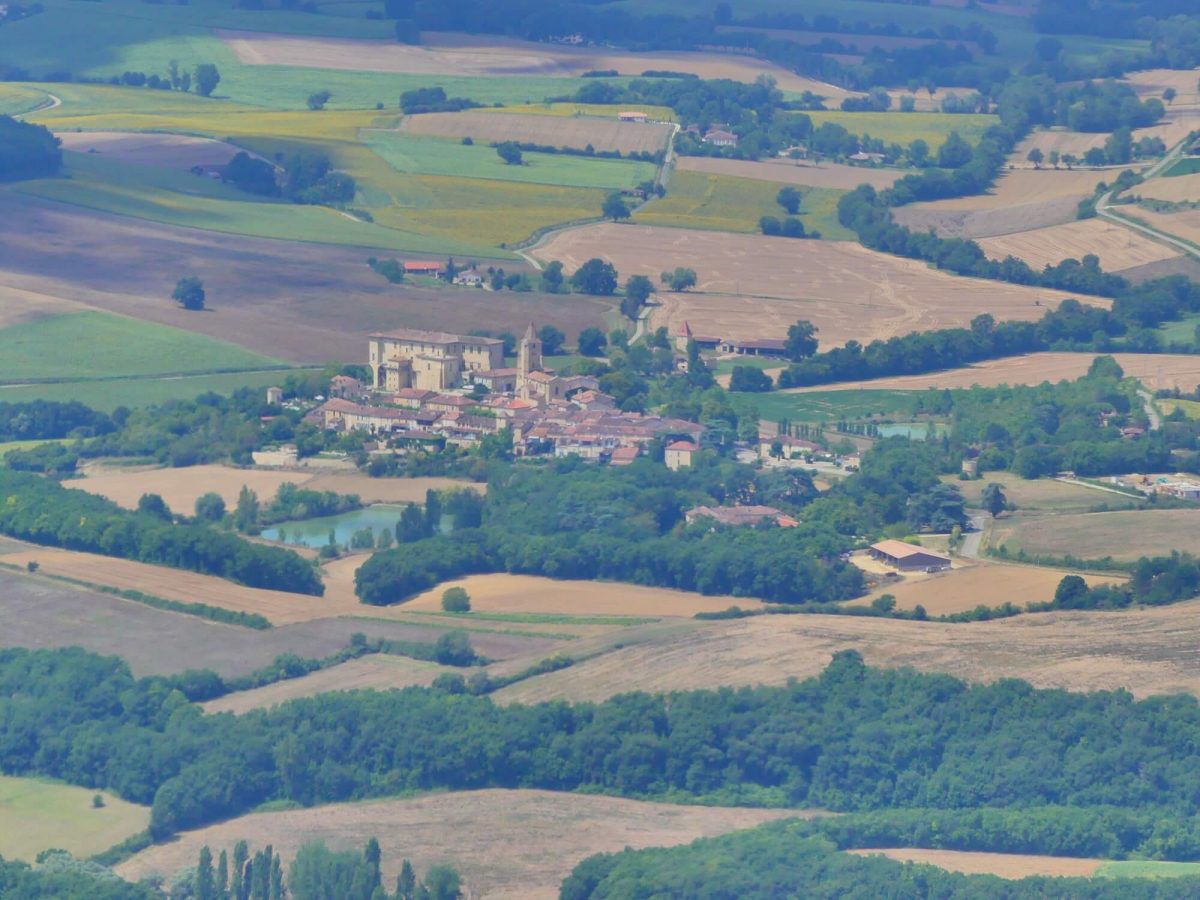 I let go of my camera to fully enjoy the sensations. It's very pleasant: not the slightest noise, zero, niet! I have the impression of being in a cloud… The pilot regularly checks that I am well. I'm fine.
I think back to the lady crossed a little earlier, who flies in two-seater with her husband, she used to tell me that she felt like in the belly of a bird, " I sometimes fall asleep, when we fly for a long time ", She laughs. Because yes, we can fly 6am, 7am if the conditions allow it. And that day, they were fabulous, connoisseurs said.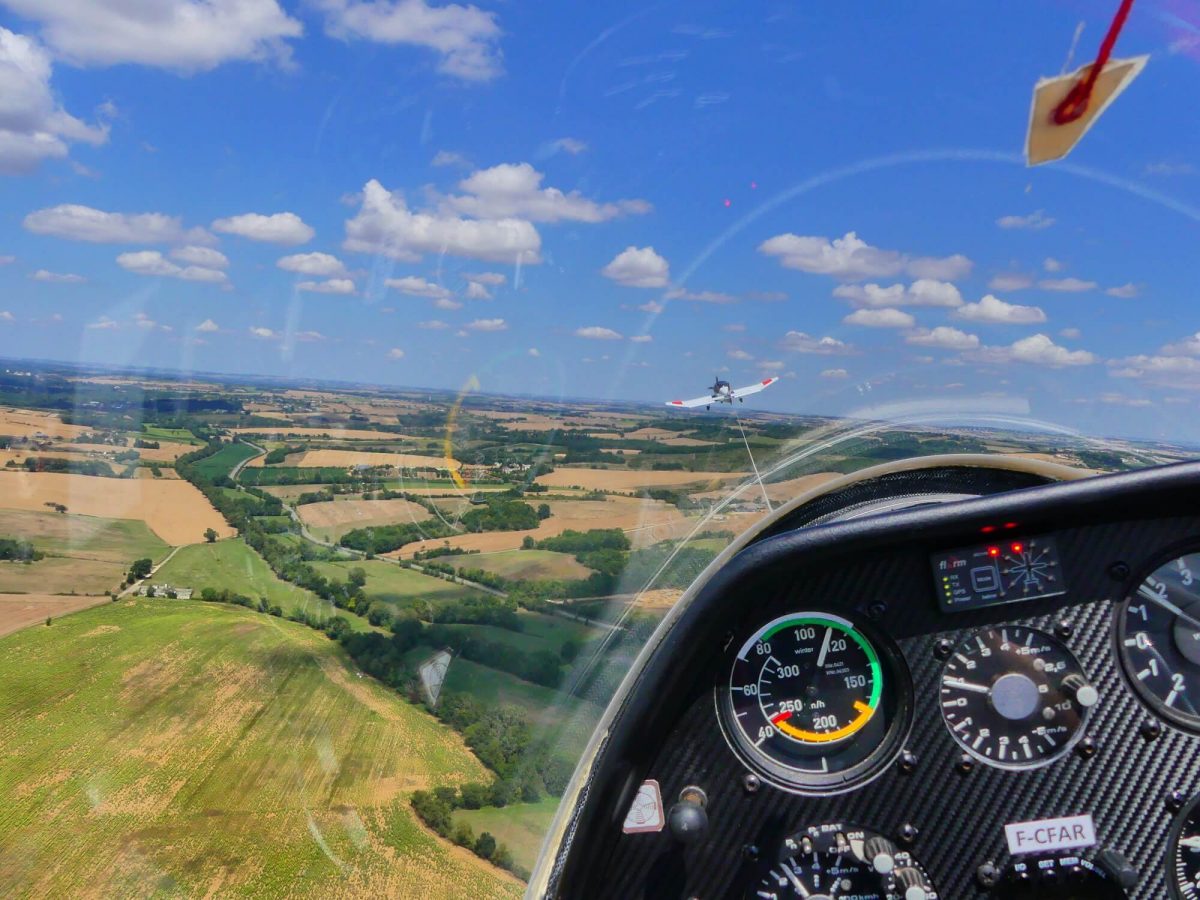 After approaching Lavardens and its imposing Château, one of my favorite villages (classified among The Most Beautiful Villages of France), we turn around, it is time to make room for the young people who have also reserved for their baptism. I'm less well, it's good.
We turn around, Guillaume does his check-up as at the start (I hear but I do not understand anything of his language, like a rehearsal: it is a technical memo when it comes to take off and land within the rules art). When it comes to landing, things move a bit unlike my departure, but nothing abnormal.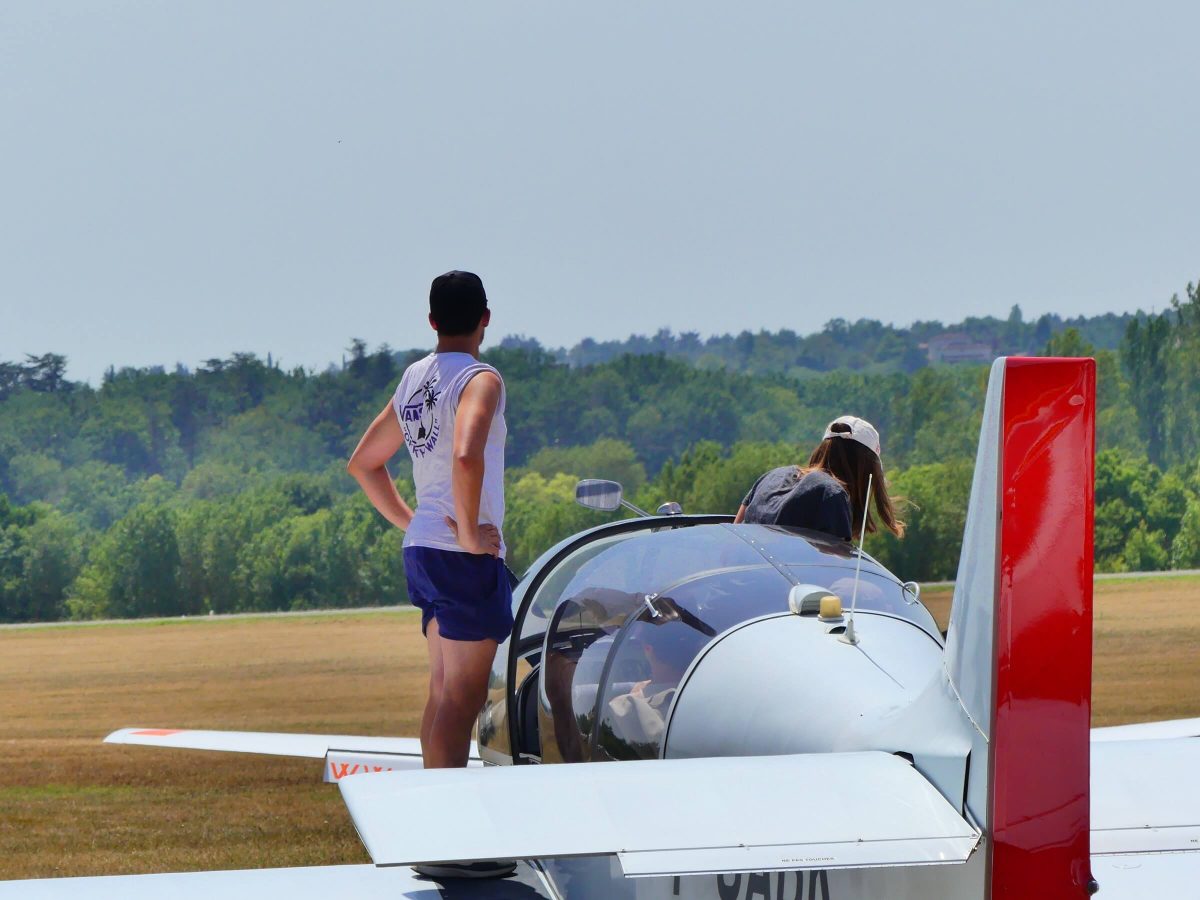 My pilot, always very attentive, opens the bike, as for me I breathe and I remain seated a moment before hurrying to rejoice in this flight with Daniel and my friend who accompanied me! The next customers are there, focused and impatient at the same time.
Book your flight
You can do your baptism in a glider too. The cycling center welcomes you every afternoon, all year round, provided you have booked. This introductory flight lasts 30 minutes, but allow time, there may be some delays.
If you like, you can supplement with the "Learn à la carte" formula: the packages last from one day to six days, you will be active and live a unique experience at the club: a great gift idea, or a vacation.
If you become " Addict "And you want to fly all year round from Auch, then the club membership will be the best formula. You will then be one of 80 members with an average of 25 young people under 25 years old. The club records an average of 2 hours of flight per year. The Auch club trains and delivers all pilot and glider instructor qualifications.
More information and reservations
AUCH VELIVOLE CENTER
Auch Airport - Gers
05 62 63 23 55 - contact@planeurs.net
Facebook page : @centrevelivoleauch
www.planeurs.net
. auch. Gers. glider. spot. velivole