Aymeric has been a guide for the Grand Auch Art and History Country for 5 years. Gersois at heart, this great traveler, speaking perfect English, offers tours full of life - just like him!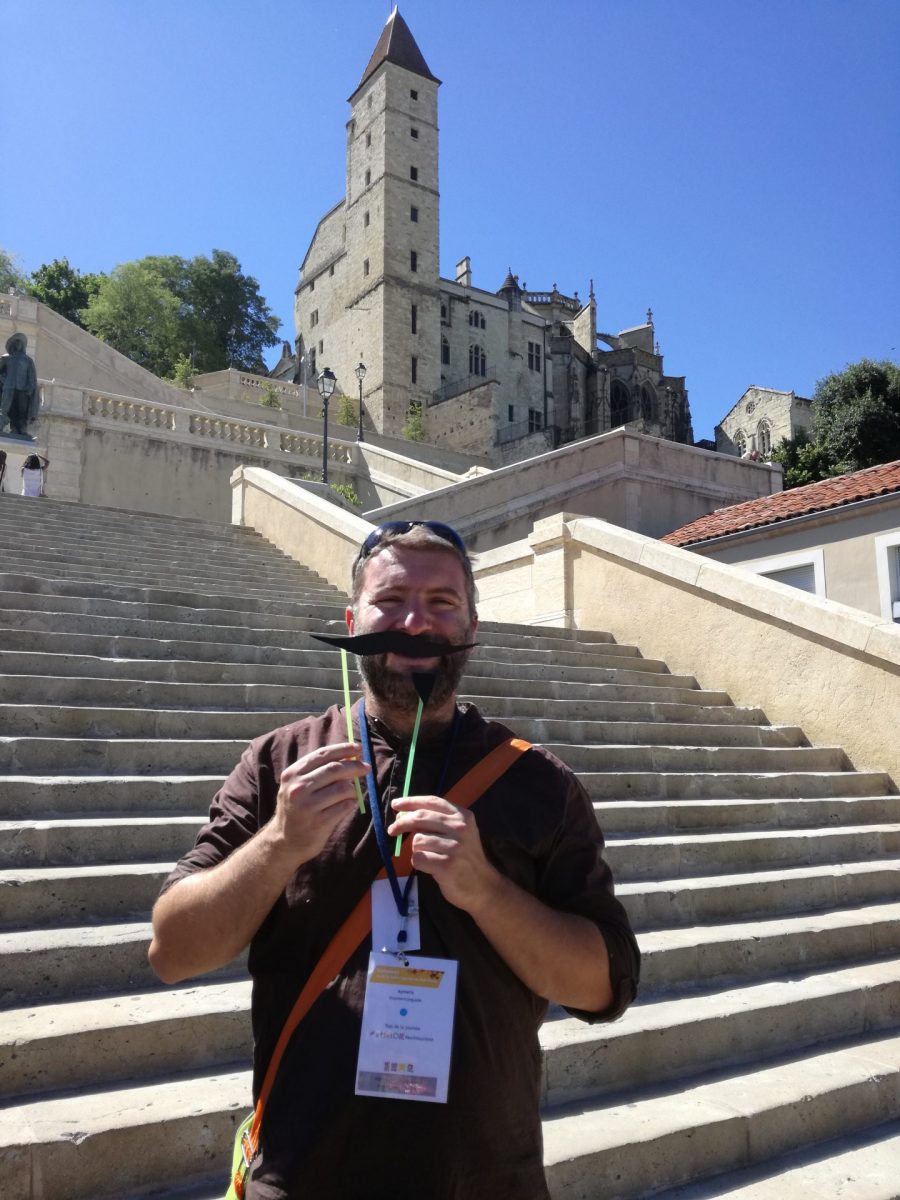 Small portrait
Where do you come from ?
I come from a small town in the Loire, Roanne, lost somewhere between the Auvergne volcanoes and the Lyonnais mountains.
How did you end up in Auch?
By chance ! We were settled in Toulouse with my partner, and she found a position (as a guide!) At theFlaran Abbey, where I followed her with enthusiasm. I liked the Gers straight away and it was only natural that I started guiding in Auch.
Why did you choose the profession of guide?
It is a rather late vocation, because I am a geographer by training, but always curious and fond of history. After college I decide to partir à l'étranger, for 18 months in Ireland and 5 months in Croatia. In addition to the souvenirs, I brought back fluent English and a travel acute, the constant need to move!
I then followed a tour guide training and I worked for 3 years in this position, which consists of accompanying a group of 40 or 50 people all over Europe. I thus discovered the classics of tourist destinations: Italy, Portugal, Austria, Greece, and a few less popular and authentic places, such as Puglia or Madeira.
It was the meetings with all the local guides that made me want to settle down and become in my turn guide-lecturer.
In three words, how would you describe your job?
Curiosity, adaptation and passion:
La curiosity this is the basis of the profession: taking pleasure in learning things, from the meaning of an expression to medieval construction techniques, guides are never satisfied.
Must also adapt to many audiences and situations: schools, individuals, seniors, the time of a visit, a day, a week, cultural hikes, workshops for children ... It is an ultra-complete job that requires a lot of professionalism.
and passion sure ! Since I was little, I have loved an expression: "Choose a job that you love and you won't have to work a single day in your life" (Confucius). I think I have found my Grail.
Visiting :
A funny anecdote to share with us?
There are so many ! But maybe this Auscitan grandmother, proud to bring her grandson on a visit, who slips her just before: "Listen carefully to the guide, he will explain to you why. Cathedral is built in a former volcano "… This is also what the guided tours are about, putting ideas back in place and updating the data!
Complete the sentence: "You cannot leave Grand Auch without having seen ..."
Without having seen? I would rather say without having had a good drink Gascogne floccu* on a terraces in front of Sainte-Marie, when the sun goes down and the western facade is set ablaze ...
If you had to "live" an Auscitan historical moment, which one would you choose?
It would perhaps be this day in 1120, when the monks of Saint-Orens in the lower town, who until then sheltered the bishops, came armed with their hand to seek a quarrel with the newly disembarked archbishop, and to try to set fire to the brand new cathedral (before the current one), to save their privileges. A battle of monks, it must be worth it ...
Meet Aymeric and the team of guide-lecturers from the Land of Art and History of Grand Auch throughout the year thanks to the rich program of visits or workshops, or on the occasion of a private visit (group or individual).
* "Alcohol abuse is dangerous for your health, consume in moderation"
. auch. Cathedral of Sainte-Marie d'Auch. conferral guide