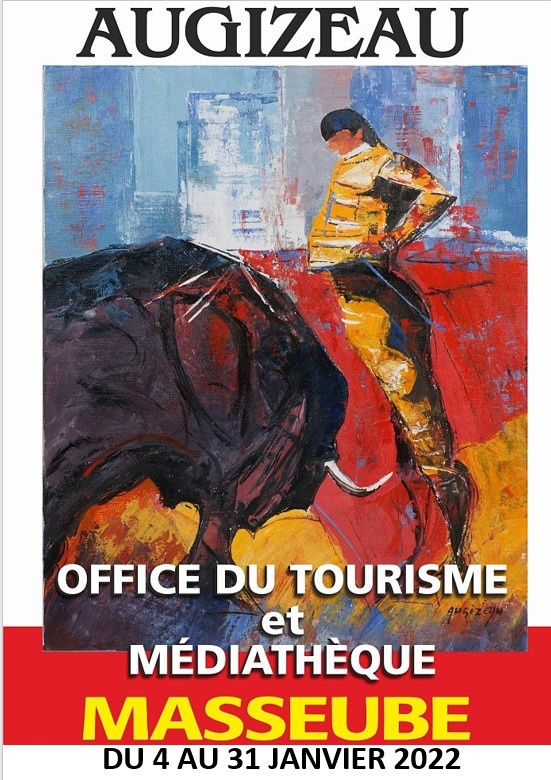 Maurice Augizeau's painting exhibition in the exhibition hall of the Tourist Office as well as in the municipal media library.
Recognized and famous painter from Massylvania exhibits his particularly colorful and luminous works.
Tuesday to Saturday 10 a.m. to 12 p.m. and 15 p.m. to 18 p.m. and Sunday 10 a.m. to 12 p.m.
Date
Open from 04 to 31 January 2022

| Days | Schedules |
| --- | --- |
| Tuesday | 10:00 a.m. to 12:00 p.m. and 15:00 p.m. to 18:00 p.m. |
| Wednesday | 10:00 a.m. to 12:00 p.m. and 15:00 p.m. to 18:00 p.m. |
| Thursday | 10:00 a.m. to 12:00 p.m. and 15:00 p.m. to 18:00 p.m. |
| Friday | 10:00 a.m. to 12:00 p.m. and 15:00 p.m. to 18:00 p.m. |
| Saturday | 10:00 a.m. to 12:00 p.m. and 15:00 p.m. to 18:00 p.m. |
| Sunday | 10:00 to 12:00 |
Prices
| Price | Min. | Max. |
| --- | --- | --- |
| Free | Free | |